Emerging-PV – an online database for researchers in emerging photovoltaic technologies
We provide an open database for researchers world wide to list their findings in emerging photovoltaic technologies online. Our plots are interactive and provide additional information like a link to the corresponding research paper. Submit further research findings online by filling out our form.
Our data is summarized in yearly surveys, "The Emerging-PV Reports", published in the journal Advanced Energy Materials. See the most recent version here.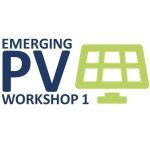 It is our great pleasure to announce the first international Emerging-PV workshop (EPVW1) to be held on December 8, 2022, during the 7th Conference Next Generation Solar Energy (NGSE7), in Erlangen, Germany. The workshop will be held in a hybrid format and a broadcast will take place via Zoom Webinar Free for All after registration for NGSE7. … >>